what we do
Effective comprehensive wealth management requires much more than choosing good investments. It means coordinating dozens of interconnected decisions to build an efficient financial foundation on which you can not only support the kind of life you want to live now but also build the future you envision.
financial planning
After agreeing on the scope of the plan, 5280 Associates team members work with you to collect all relevant information, use modeling software to analyze the many possible paths forward, and present their findings to you, complete with recommendations and action steps. After the initial assessment, 5280 Associates provides ongoing advice, ensuring that your financial plan keeps pace with your life as it unfolds.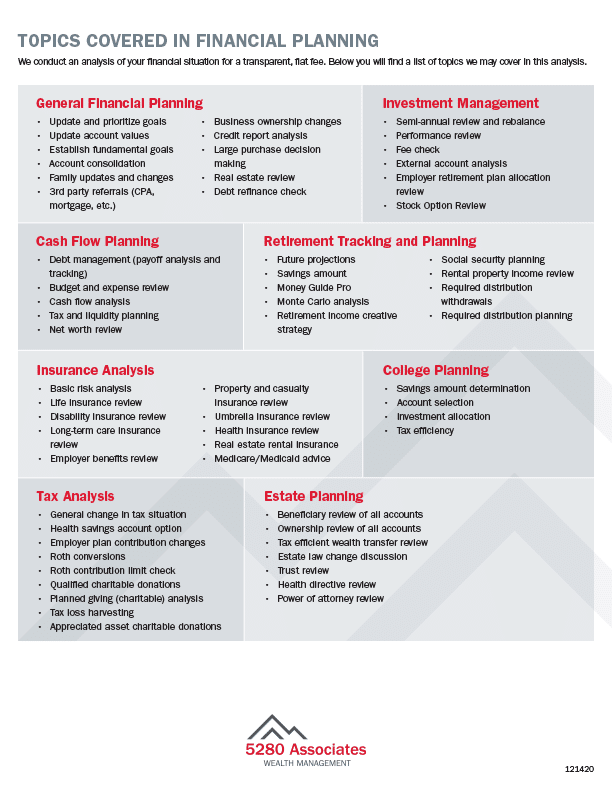 investments
After reviewing your financial plan, you can choose to have 5280 Associates implement investment-related recommendations on your behalf.
insurance
In addition to implementing your investment strategy, 5280 Associates can implement the insurance-specific portions of your financial plan.
Specific Investment or Insurance Needs
If you are looking for a specific investment or insurance product to fill a need in your existing financial plan, 5280 Associates can help.
Who We Help
While anyone can benefit from a financial plan, these life stages tend to be the most critical for financial planning.